ROBOTICS: Could a robot do your job?
MaryJo Webster, USA TODAY 8:39 a.m. EST November 4, 2014
By 2017, about 225,000 more maids, home health care workers, food service workers, retail salespeople and custodians are likely to be needed, making them among the fastest-growing jobs. But with wages around $10 per hour, it's hard to find good candidates.
It might get even harder. These aforementioned jobs will account for nearly 1 million of the 2.4 million new, low-skill jobs expected to be added in the U.S. by 2017, according to a USA TODAY analysis of jobs data from Economic Modeling Specialists Intl. (EMSI) and CareerBuilder.
But advances in technology mean such workers might be replaced by robots like HERB, the "Home-Exploring Robot Butler" under development at Carnegie-Mellon. HERB is learning to retrieve and deliver objects, prepare simple meals and empty a grocery bag.
"These 'safe havens' for low-skill workers may not be there in the decades to come," said Carl Benedikt Frey, one of the authors of "The Future of Employment," a 2013 University of Oxford study estimating the scope of automation. "A lot of low-skill workers will need to acquire creative and social skills to stay competitive in the labor market in the future."
Low-skill workers, experts say, need to look past any short-term job growth.
"We're moving the unskilled jobs into skilled jobs. And that is going to be a challenge for us going forward," said Henrik Christensen, director of the Institute for Robotics and Intelligent Machines at the Georgia Institute of Technology. "If you are unskilled labor today, you'd better start thinking about getting an education."
James W. Hughes, distinguished professor and dean of Rutgers University's Edward J. Bloustein School of Planning and Public Policy, said that electricians, carpenters and plumbers don't need to worry about being replaced by robots. Those are skills yet to be automated, he said, much to the relief of the students at Edison Job Corps, which focuses much of its program on such skills.
Hughes also said that while robots and other forms of artificial intelligence and automation are likely to replace less-skilled workers, the number of higher-skilled jobs needed to create and maintain such technology will increase. New Jersey saw that before in the transition of blue-collar manufacturing jobs in the 1970s to white-color office jobs since the 1980s with the advent of information technology. The automation of the automobile industry led to the loss of high-paying union jobs when the Ford plant in Edison closed in 2005 and the GM plant in Linden closed the following year, yet the demand for more office jobs led to the state's largest building boom and one of the largest in the nation, Hughes said.
"The problem is not losing old lower-skill jobs, it's creating higher-skill jobs," he said. "Ever since IBM created the mainframe computer, people have said that will destroy jobs. We will have mass unemployment because of automation. But that never really has happened. If you go back, there is a long history of technology over the past two centuries that wiped out all the farm jobs because of the mechanization of agriculture, but people went to the city, and new jobs were created. The question is: How fast will the newer jobs be created?"
"The problem is the gap between the two," Hughes continued. "In the early stages of changing technology, there are more jobs lost than gained. But that's in the short term. In the long term, historically, net job creation indicates that newer jobs were greater than those lost. The Internet is an example. The whole introduction of desktop computers wiped out legions of typists whose main function was typewriting, but ultimately, the whole industry surrounding desktop computers and mobile computers led to a whole range of new jobs that didn't exist."
Health-care jobs are growing nearly everywhere, and some construction jobs are showing high demand in certain metro areas.
Half of all jobs — and 70 precent of low-skill jobs — may be replaced by robots or other technology in the next 10 to 20 years, according to Frey's research.
Driverless cars, robots that can walk and talk, and smart machines that learn on their own are moving technology into realms once thought only for humans.
"We don't just have machines that are faster than us, but we also are starting to have machines that might be smarter than us," said Moshe Vardi, a computational engineering professor at Rice University in Houston. "There will never be things we cannot automate. It's just a matter of time."
Coming disruption
Google's driverless car might be a watershed moment for the labor market.
Christensen said kids born today may never need to drive a car. That's astonishing considering just a decade ago, most robotics experts thought a driverless car would be impossible. But advances in technology mean complex decisions, such as making a left turn against oncoming traffic, now can be made by a machine.
Robotics experts Henrik Christensen and Steve Cousins discuss the future of the field. VPC
A fully autonomous vehicle still has legal and regulatory hurdles, yet many auto manufacturers are producing cars with similar auto-pilot features that use the same technology.
If driverless vehicles get a green light, they could drastically affect transportation jobs, the fourth-largest occupation sector and 7 percent of the workforce. (Google declined to comment for this story.)
Driverless trains and underground mine vehicles are already being used in other parts of the world. Tractor-trailer drivers, train engineers, garbage collectors, taxi drivers and bus drivers are all jobs that have an 80 percent or higher probability of being automated, according to the Oxford study.
With more than half of the transit industry's 400,000 workers expected to retire within the next 10 years, Jennifer M. Cleary, a senior research at the Bloustein School and Rutgers' John J. Heldrich Center for Workforce Development, recently helped design and launch a virtual career network. Yet, some of the jobs currently available at https://www.vcn.org/transit/ may be replaced by automation, Cleary said.
"Driverless vehicles could replace bus operators/train operators," she said. "Increased use of sharing services or driverless cars may also reduce the need for transit overall. Kiosks and virtual agents can replace ticket agents. Computer diagnostics and green engines change the skills needed by diesel mechanics. Improved navigation systems could impact dispatchers and traffic analysts."
Improvement in sensors — the eyes and ears of a machine — make it possible to detect a traffic slowdown, or for janitorial robots to map the floors of a large commercial space, replacing workers who now push heavy machines for five or six hours per shift.
Earlier this year, a robot named Botlr went to work for an Aloft Hotel in Silicon Valley, delivering items like extra towels and toothbrushes to guests upon request.
Not much larger than a child and with a black bow-tie, Botlr navigates the hotel on its own but will send an alert if it encounters an obstacle.
"It's not going to replace butlers, or be used in a kind of (hotel) brand where you have very high expectation of human interaction," said Steve Cousins, CEO of Savioke, the Silicon Valley company that made Botlr.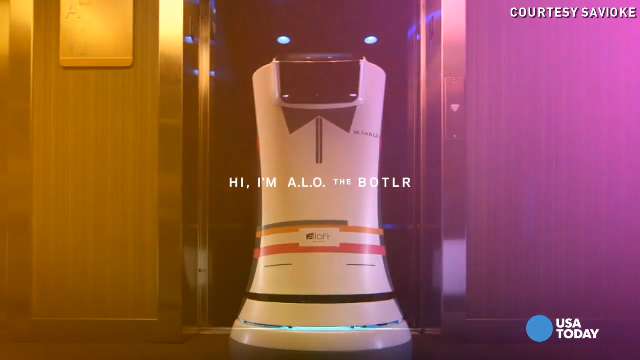 A USA TODAY investigation looks at the future of robots and what jobs they may be able to take over from their human counterparts.
Hospitals are also using robots to deliver lab specimens, linens, food trays, hazardous waste and other materials, jobs that are currently done by orderlies, nurse assistants, nurses and lab technicians.
A virus-killing robot, the Xenex, is being used in hospitals to disinfect rooms. The robot — which has received a lot of attention because of the Ebola crisis — uses sensors to determine room size, a factor in how long to deliver the lethal ultraviolet rays needed to disinfect the room.
At Robert Wood Johnson University Hospital in New Brunswick, a robot is more friend than foe to the job market. The hospital recently employed the latest generation of the da Vinci surgical robot, a system designed to help doctors perform the most precise and least-invasive procedure possible.
"It actually expands the types and number of surgeries that our surgeons can do after they receive training with the technology," spokesman Peter Haigney said. "For example, cardiovascular surgery will now be able to offer robotic minimally invasive mitral valve repair to go along with everything they are doing using traditional surgical techniques."
Baxter, a robot used in factories, is about the same size as an adult, has wheels and can be taught what to do by moving its arms as needed, like teaching a child to tie his shoes, said Jim Lawton, chief managing officer of Boston-based Rethink Robotics.
Robots are also showing up in some unexpected places. In Japan, a robot is playing the lead role in Franz Kafka's "The Metamorphosis," and a few years ago, a major Japanese retailer had a 4-foot-tall robot babysit children while their parents shopped. At a North Carolina State University library a "Bookbot" is retrieving books.
But a "Rosie" robot, the maid on the 1962-87 television show "The Jetsons," is not likely soon, because multiple tasks are still out of reach, experts say. University of California-Berkeley researchers have been training a humanoid robot to fold towels. They succeeded, but it took the robot an average of more than 20 minutes to fold one.
"There's no doubt we'll see lots of robots being deployed for home services. I feel like there's so much more that could be done," Christensen said. "I would love to have a robot make my bed. … The robot could do its work very slowly while you're gone all day. That would be awesome, especially if we can do this for less than $1,000 — something everybody can afford."
Cost incentive
Food service and cleaning — where the pay is typically at or below $10 per hour — have mostly avoided technological innovation, while higher-paying jobs in factories have been replaced by robots.
"It's already feasible … for a lot of those low-skill jobs to be automated, at least in part," said Brian Points, an economist with EMSI. "But the infrastructure and machinery required to make that happen is probably more expensive than to continue paying people that $12 per hour."
But lower tech costs, the fear of a $15 minimum wage and increased customer expectations are pushing food service companies to adopt tablets for ordering and computerized systems for kitchens and inventory — "not just to save money today, but to maintain savings over time," said Darren Tristano, a restaurant industry consultant for Technomic.
Nearly any job that can be easily turned into computer code is quickly disappearing, such as toll booth operators, travel agents, telephone operators and bank tellers.
Algorithms and software improvements have reduced jobs for tax preparers. Computers that scan millions of pages of legal documents have displaced paralegals. And tablet computers are taking orders and payments at restaurants, leaving wait staff to deliver food, clear dishes and answer questions.
Even one of the country's newest and highest-paying jobs — computer programmer — is in danger of being replaced by computers that can write code.
Humans who want to keep their jobs need to be innovative and creative, futurists said. The jobs that are at low risk of automation tend to require creative intelligence, negotiation, persuasion, perception, creativity or care.
That's why engineers, scientists, entrepreneurs, Web developers, artists, lawyers, business executives, nurses and doctors are among the safest jobs.
"It's not about learning specific skills, it's about having the cognitive abilities to adapt to technologies," said Frey, the Oxford study author.
The legal field, however, has been shaken up by information technology in the past, Hughes said.
Jobs were impacted in recent years when associates no longer were needed as extensively to research cases, Hughes said.
"Poring over documents to look at precedent can be done by information technology and artificial intelligence," he said. "They can do electronic searches. I can take a student's paper and run it through the same type of program to tell if it was plagiarized or not."
Most economists agree that technology will continue to disrupt the workforce. However, it's unclear whether it will cause mass unemployment or whether workers will move into newly created jobs — if there are enough.
"What will not be replaced are the face-to-face customer service jobs, the face-to-face interaction jobs," Hughes said. "Any type of process job can be subject to improvements in technology. That's why economics is known as the dismal science because it has a very dismal record forecasting future growth locomotives.
"In 1992, few economic forecasters knew what the Internet was. However, seven or eight years later, the Internet was a major force in producing jobs in the late 1990s. There probably are going to be new innovations that will drive job creation, but right now, we have very little insight into what that is going to be."
Source: USA Today